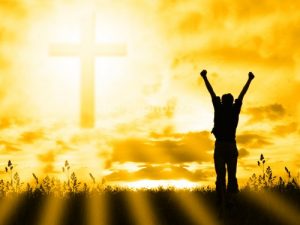 COLOSSIANS 2:13-15 NLT
13 You were dead because of your sins and because your sinful nature was not yet cut away. Then God made you alive with Christ, for he forgave all our sins. 14 He canceled the record of the charges against us and took it away by nailing it to the cross.
15 In this way, he disarmed the spiritual rulers and authorities. He shamed them publicly by his victory over them on the cross.
My Lord what an amazing portion of scripture. Our theme for 2019 is the Year of the Cross. 1 CORINTHIANS 1:18 NKJV "For the message of the cross is foolishness to those who are perishing but to us who are being saved it is the power of God."
The Cross of Christ changes everything and when you look to the Cross you will live and find life everlasting.
Notice what verse 13 says 'You were dead because of your sins'. This 'deadness' is your total separation from God but it also means decay because with death comes decay and decay is a rotting away of your life and sin will do this to you.
1 JOHN 3:4 NKJV "Whoever commits sin also commits lawlessness and sin is lawlessness."
It's living contrary to God's Word and His Ways and there will be consequences when we violate God's laws. Most people don't even know what God's Word or His Ways are.
Well, His Word is what the Holy Bible says's and we have it right here. His Way's are the leading of the Holy Spirit. You can't be led by something you don't have but you can receive the Holy Spirit today.
1 JOHN 3:8 NKJV "He who sins is of the devil for the devil has sinned from the beginning. For this purpose the Son of God was manifested that He might destroy the works of the devil."
We probably have never thought that living lawlessly means we are of the devil. That's pretty strong but that's what the Bible says. It dense matter how good a person may appear to be it's what resides in a person's heart that matters.
The Bible says about the heart of an unsaved person JEREMIAH 17:9 NKJV "The heart is deceitful above all things, And desperately wicked: Who can know it?"
As good as I thought I was before I came to Christ I can tell you that I still possessed an inquisitive mind that would go astray and it definitely did not lead me closer to God.
This is why you hear of people committing heinous crimes and people who knew them say 'He or she was such a good, quiet and decent person I can't believe they did that'. Well an evil heart without God is capable of anything.
But let's leave aside terrible crimes what about lawless living where we choose our own way of living which does not include God in it. This kind of living will always lead to sin that leads to your life being cursed and eventually suffering demonic affliction.
It's usually always in that order from my experience in ministering to hundreds of people. And what are the consequences well simple pout TROUBLE. Trouble, strife, and oppression in the spirit, soul, body relationships, and finances.
But the Bible says that God made us alive. This is the opposite of the deadness that can only occur when a person comes to God in humility and repentance and accepts Jesus Christ as their personal Lord and Saviour. There is no other way.
And all the trouble created by our sins that bring curses and demonisation Jesus destroyed on the Cross of Calvary.
COLOSSIANS 2:14 "He canceled the record of the charges against us and took it away by nailing it to the cross."
He did this for you and me but the freedom, forgiveness, and faith the Cross brings into a person's life can not be appropriate unless you accept it.
You have to accept what Christ has done for you but to accept what Jesus has done means you have to identify with what Jesus has done and die to yourself. Due to the lawlessness and die to your own sinful desires.
If you can do that you can be BORN AGAIN. Then the power of the Cross will be made manifest in your life because through death comes life when you embrace the Cross of Jesus Christ.
Look at COLOSSIANS 2:15 NKJV "In this way, he disarmed the spiritual rulers and authorities. He shamed them publicly by his victory over them on the cross."
Notice that on the Cross Jesus disarmed the spiritual rulers and authorities. These are the demonic powers that afflict people every day. They were defeated but they still cause affliction to people who have not been redeemed and washed by the Blood of Jesus.
I can tell you to use this cleaning product but it won't have any effect until you apply it. I can tell you all about the saving grace of the Blood of Jesus Christ but if you don't apply it then there won't be any victory.
Satan is the master of deception. He thrives on making people believe lies and in the process cause people to be led astray in their minds through deception. They end up believing things that are not really causing fear, anxiety, and depression.
Satan is always leading people astray mentally into sin which results in curses that can cause everything from sickness, poverty, depression, heartache, disconnection, and premature death. These curses are empowered by demonic spirits that only the Blood of Jesus can destroy.
How many people here today want victory over sin, curses, and demons? Then come to the Cross and give your life to Jesus.
On the Cross God, the Father placed all the consequences of the world's iniquity, guilt, shame, and rebellion on Jesus' shoulders.
Every wicked thing produced by our rebellion was put on Jesus as all the goodness in Him became ours because of His obedience.
The completeness of this Divine Exchange came about in the following ways.
1. JESUS WAS WOUNDED SO THAT WE COULD BE FORGIVEN.
ISAIAH 53:5 NKJV "But He was wounded for our transgressions, He was bruised for our iniquities. The chastisement for our peace was upon Him, And by His stripes we are healed."
2. JESUS CARRIED OUR SICKNESS AND SUFFERED OUR SORROWS SO THAT WE COULD RECEIVE HEALING.
ISAIAH 53:4-5 NKJV
4 Surely He has borne our griefs And carried our sorrows; Yet we esteemed Him stricken, Smitten by God, and afflicted.
5 But He was wounded for our transgressions, He was bruised for our iniquities; The chastisement for our peace was upon Him, And by His stripes, we are healed.
3. JESUS BECAME SIN AND CARRIED OUR SINFUL NATURE SO THAT WE COULD BE JUSTIFIED.
2 CORINTHIANS 5:21 NKJV "For He made Him who knew no sin to be sin for us, that we might become the righteousness of God in Him."
4. JESUS DIED IN OUR PLACE SO THAT WE COULD SHARE IN HIS ETERNAL LIFE.
ROMANS 5:8-9 NKJV
8 But God demonstrates His own love toward us, in that while we were still sinners, Christ died for us.
9 Much more then, having now been justified by His blood, we shall be saved from wrath through Him.
5. JESUS CARRIED OUR CURSE SO THAT WE COULD BE BLESSED.
GALATIANS 3:13 NKJV "Christ has redeemed us from the curse of the law, having become a curse for us for it is written Cursed is everyone who hangs on a tree"
6. JESUS PAID FOR OUR POVERTY SO THAT WE COULD BE PROSPEROUS.
2 CORINTHIANS 8:9 NKJV "For you know the grace of our Lord Jesus Christ, that though He was rich, yet for your sakes He became poor, that you through His poverty might become rich."
7. JESUS SUFFERED OUR SHAME SO THAT WE COULD PARTAKE OF HIS GLORY.
HEBREWS 2:10 NKJV "For it was fitting for Him, for whom are all things and by whom are all things, in bringing many sons to glory, to make the captain of their salvation perfect through sufferings."
8. JESUS SUFFERED OUR REJECTION SO THAT WE COULD BE ACCEPTED IN HIM.
EPHESIANS 1:6 NKJV "To the praise of the glory of His grace, which He made us accepted in the Beloved."
A feeling of rejection is one of the most common emotional problems but you can be delivered from rejection today.
Rejection is one of the deepest wounds the human soul can experience but Jesus suffered it for us on the Cross. You see overtime the Bible mentions the Cross and the redeeming work that took place upon it healing is connected to it.
However, it is always mentioned in the past tense indicating that the healing already took place on the Cross.
SO THE QUESTION IS HOW DO I APPROPRIATE THE CROSS IN MY LIFE?
Through death comes life. This is the great mystery of the Cross. That if I die to that sin, disobedience, lawlessness, addiction, bad attitude, unholy desire than what lies on the other side is my salvation, healing, and deliverance.
LUKE 9:23-24 NKJV
Then He said to them all, If anyone desires to come after Me, let him deny himself and take up his cross daily and follow Me. 24 For whoever desires to save his life will lose it but whoever loses his life for My sake will save it.
PRAYER
Lord I put this THING to death right now and I ask for your resurrection power to fill my life with your power so that I may have victory and so that I will overcome in Jesus' name.