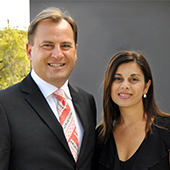 Gary Costello was born in Sydney, Australia.  Awesome Church was birthed on June 23rd, 1996 with just 7 people.
Gary is married to Lissa (Original Founding Church Team Member) who has a tremendous call of God on her life. Lissa has become a perfect compliment to Gary's ministry overseeing the Vision Team and Church. Lissa Graduated in 2006 with Honours in a Certificate in Ministry at AlphaCrucis National Assemblies of God College. Gary and Lissa have two beautiful Jessica and Charlotte.
Gary & Lissa are ordained ministers with the Australian Christian Churches.
In August 2017 Awesome Church experienced a visitation of the Holy Spirit descending like a cloud during the Sunday service. Since then a fresh anointing for salvation, healing and deliverance has manifested with thousands of people coming to the altar repenting and receiving healing and deliverance.
This sparked a move of God in the area of healing and deliverance and since then many, many people have received ministry at the altar coming from all over the country to attend the monthly D-DAY Deliverance Day.
The focus of D-DAY is to pray for divine healing, deliverance, breaking curses, inner-healing and removal of evil strongholds of the mind. There have been countless testimonies of people receiving freedom in Jesus name.
In 2018 the Lord spoke to Pastor Gary and said 'I am establishing a sanctuary of salvation, healing and deliverance in this city of Sydney and My glory will be present to perform My Word when the true Gospel is preached and that is the message of the Cross'.
In 2020 Awesome Church purchased and established a multimillion dollar complex in Rydalmere which is now the new Worship Centre for Awesome Church.
Also in 2020 AGC Australian Gospel Churches Fellowship was established for like minded ministries who are Full Gospel and are focused on bringing the Gospel of Jesus Christ with emphasis on Salvation, Healing and Deliverance.
Gary and his wife Lissa bring a fresh dynamic approach to ministry. They both have a deep devotion to Jesus Christ and share a passion for ministry. They both have a strong Full-Gospel, Pentecostal and Word of Faith background and present Church in a vibrant, relative way with total emphasis on the Gospel of Jesus Christ. Faith, Salvation, Healing, Deliverance, Provision and the power of the Holy Spirit.
In June 2021 Awesome Church celebrated it's 25th Year Anniversary and continues to forge ahead with unlimited vision for the future with plans already being drawn up for a 1,000 seat Worship Centre.
We encourage you to come experience Awesome Church for yourself this Sunday 10.00 AM.