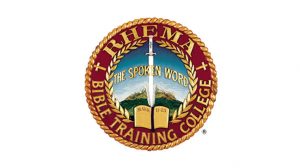 Over the past 15 years, we have graduated over 150 students with a Certificate in Ministry.
This is a wonderful achievement for our Church as I am a very big believer in Biblical education.
Studying the Holy Bible and knowing what you believe as a Christian is of the utmost importance.
It's with great pleasure that I announce that we will be partnering with RHEMA INTERNATIONAL BIBLE COLLEGE https://rbtca.org.au and will be offering a CERTIFICATE IN MINISTRY.
RHEMA BIBLE COLLEGE is a Full-Gospel Pentecostal Institution located in Brisbane with Colleges all over the world the main headquarters being in Tulsa, Oklahoma USA.
RHEMA has an illustrious history of graduates myself included.
This is a PART-TIME CORRESPONDENCE course conducted at the convenience of your own home. 
All of the course material, books, and lectures will be provided by RHEMA BIBLE COLLEGE and is cost-effective.
The CERTIFICATE IN MINISTRY is also recognised by the ACC (Australian Christian Churches) as a prerequisite for receiving credentials within the denomination.
This course is designed for busy people and for those who would like a systematic approach to studying God's Word.
You don't have to go into ministry to do this course; it's for everyone who wants to grow and learn more about the Bible and service in the Kingdom.
This course will commence 7.30pm Tuesday 8th of February 2022.
Excellent Faith teaching from Ministers all over the globe.
Interactive monthly zoom meeting with world-class speakers.
Systematic study plan to cover the most important Biblical doctrines.
Wonderful books to build a faith library at home.
Develop strong devotional habits to empower your Christian walk.
Exciting days ahead for Awesome Church.