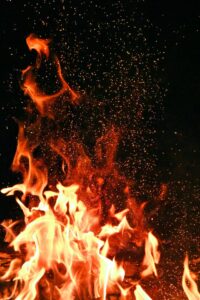 Jesus ignites the flame – Matthew 3:11
– Without Jesus there can be no Holy Spirit, YOU MUST BE BORN-AGAIN!
– The Holy Spirit is a gift to the Believer not the unsaved.
Make sure the fuel tank is full – Matthew 25:1
– A fire can not continue to burn without fuel.
– His Presence creates a greater fire but you must be in His Presence.
Fan the flame with the Word – Matthew 21:21
– The Word builds faith
– 'Faith comes by hearing the Word' Romans 10:17
– The Word causes you to believe for the impossible. (Realm of the supernatural)
Beware of fire extinguishers – Matthew 10:28
– Distractions, worldly, or otherwise.
– Unbelief, superstition, and pride.
Use your flame to start other fires – Matthew 5:13
– The fire burning in you is for a reason to impact others with the Gospel.
– Your flame could start a revival within your family, work, or friends.