DELIVERANCE
Deliverance is the hallmark of the New Testament in that it's only here that we see demons being actually confronted, bound and cast out something unique to the New Covenant.
Jesus not only delivered the demonised but also commanded His disciples to do the same. Unfortunately today much of the Body of Christ has ceased to obey the commands of Jesus and engage in Healing and Deliverance and this has left many good Christian's struggling with spiritual afflictions to no avail.
At Awesome Church we continue to pray for the sick, oppressed and demonically afflicted every Sunday and we encourage you to come and receive ministry.
At evening, when the sun had set, they brought to Him all who were sick and those who were demon-possessed. MARK 1:32
Then He healed many who were sick with various diseases, and cast out many demons; and He did not allow the demons to speak, because they knew Him. MARK 1:34
And He was preaching in their synagogues throughout all Galilee, and casting out demons. MARK 1:39
And when He had called His twelve disciples to Him, He gave them power over unclean spirits, to cast them out, and to heal all kinds of sickness and all kinds of disease. MATTHEW 10:1
And they cast out many demons, and anointed with oil many who were sick, and healed them. MARK 6:13
And these signs will follow those who believe: In My name they will cast out demons. MARK 16:17
Pastor Gary Costello has over 25 years of ministry experience as a Minister of the Gospel and Senior Pastor of a Church. Pastor Gary has seen hundreds or people over the years be completely set free from demonisation of the soul (mind, will & emotions) and body.
Every Sunday at the conclusion of the sermon Pastor Gary and his Ministry Team spend time praying for people to receive Salvation, Healing and Deliverance in Jesus Name.
A more specialised time of deliverance takes place during our D-DAY DELIVERANCE DAY which is totally dedicated to teaching and actual intense ministry for healing and deliverance.
Our next D-DAY is coming up on SUNDAY 26 FEBRUARY 2023 10.00AM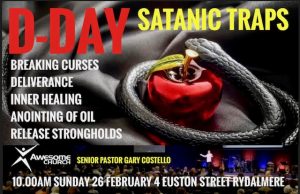 SUNDAY 26 FEBRUARY 2023 10.00AM
SPECIAL TEACHING BY SENIOR PASTOR GARY COSTELLO
Exposing SATANIC TRAPS that cause people to come under a curse and be demonised.
There will also be an extended time of ministry for breaking curses • inner-healing • dismantling strongholds of the mind • deliverance • anointing of oil for the sick.
All Welcome