D-DAY Deliverance Day is a monthly meeting which focuses on ministering Salvation, Healing and Deliverance in Jesus name.
Emphasis is on teaching divine healing from the Holy Bible with ministry in the area of
prayer for the sick, anointing with oil, breaking curses, inner-healing, and deliverance from evil spirits.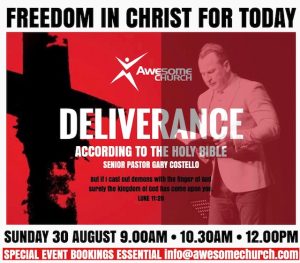 DELIVERANCE According to the Holy Bible SUNDAY 30 AUGUST 9.00AM, 10.30AM & 12.00PM
Senior Pastor Gary Costello will be conducting a special teaching and ministry for salvation, healing, deliverance, breaking curses, inner-healing, removing strongholds and anointing with oil.
Registration for this event is essential as seats are limited: info@awesomechurch.com
Don't miss this powerful day of freedom in Christ.