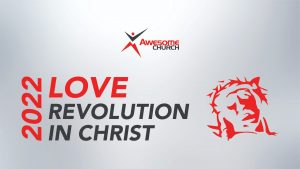 The world has endured a once in a century crisis that has continued now for over two years. There has been political, social, and religious upheaval as a consequence.
Fear, control, lockdowns, restrictions, dread, depression, and death have had devastating effects upon peoples' lives.
Yet in the midst of this turmoil, there is a beacon of light. A truth that brings hope and healing and that is the Church of Jesus Christ.
The Church has existed for over two thousand years and has withstood persecutions, economic recessions, terrorism, plagues, world wars, ideological corruption, and attacks from evil tyranny.
But by the grace of God, the church STILL STANDS more glorious, more powerful and more resilient than ever.
The Lord's statement in MATTHEW 16:18 NLT still rings true today as a declaration of dominance… 'Now I say to you that you are Peter which means 'rock' and upon this rock I will build my church and all the powers of hell will not conquer it.'
The Church of Jesus Christ is a firm foundation!
The Church of Jesus Christ was birthed in the supernatural power and continues to expand the Kingdom of God with the Great Commission being the battle cry.
MARK 16:15-18 NKJ
15 And He said to them 'Go into all the world and preach the Gospel to every creature. 16 He who believes and is baptised will be saved but he who does not believe will be condemned. 17 And these signs will follow those who believe: In My Name they will cast out demons they will speak with new tongues 18 they will take up serpents and if they drink anything deadly it will by no means hurt them they will lay hands on the sick and they will recover.'
Jesus Christ was the champion of the Great Commission and the Apostles continued with the same dedication and commitment to the cause of the Kingdom.
At the Church's disposal are many 'weapons of war' spiritually speaking that can be used to combat the enemy.
There is the message of the Cross, the power of the Blood of Jesus, God's Word – The Holy Bible, baptism of the Holy Spirit, prayer, worship. Above all, the SUPREME FORCE that we are to possess is LOVE!
1 CORINTHIANS 13:13 NKJ And now abide faith, hope, love, these three but the greatest of these is love.
There is a powerful expression in Latin 'Amor vincit omnia et nos cedamus amori' which means 'Love conquers all things so we too shall yield to love.'
The expression suggests that there is no force in the world that cannot be overcome by love 'For God is love' 1 JOHN 4:8 NKJ
Love is mentioned 504 times in the New King James Bible. Old Testament 267 times and the New Testament 237 times. There are many verses that demonstrate the power of LOVE and here are some that I believe truly stand out.
JOHN 3:16 NKJ
For God so loved the world that He gave His only begotten Son that whoever believes in Him should not perish but have everlasting life.
JOHN 15:17 NKJ
These things I command you that you love one another.
ROMANS 8:37 NKJ
Yet in all these things we are more than conquerors through Him who loved us.
EPHESIANS 5:1-2 NKJ
1 Therefore be imitators of God as dear children. 
2 And walk in love as Christ also has loved us and given Himself for us an offering and a sacrifice to God for a sweet-smelling aroma.
COLOSSIANS 3:14 NKJ
But above all these things put on love which is the bond of perfection.
JAMES 2:8 NKJ
If you really fulfil the royal law according to the Scripture 'You shall love your neighbour as yourself' you do well.
1 JOHN 3:11 NKJ
For this is the message that you heard from the beginning that we should love one another.
1 JOHN 4:19 NKJ
We love Him because He first loved us.
Jesus was a love carrier and a love releaser.
Jesus' highest anointing was love.
The secret of Jesus' ministry was love.
Love is the greatest supernatural power.
When our faith is operating in love then we are operating in God.
When you walk in love you get your mind back.
Love is the master key for divine interaction.
The Bible speaks about the importance of LOVE and gives a definition of LOVE that undergirds our theme for 2022.
Verses 1 to 3 are a differentiation between false man-made religiosity and true Godly inspired spirituality. Verses 4 to 8 give a Holy Spirit inspired definition of Biblical love.
1 CORINTHIANS 13:1-8 NLT 
1 If I could speak all the languages of earth and of angels but didn't love others I would only be a noisy gong or a clanging cymbal. 2 If I had the gift of prophecy and if I understood all of God's secret plans and possessed all knowledge and if I had such faith that I could move mountains but didn't love others I would be nothing. 
3 If I gave everything I have to the poor and even sacrificed my body I could boast about it but if I didn't love others I would have gained nothing.
4 Love is patient and kind. Love is not jealous or boastful or proud 
5 or rude. It does not demand its own way. It is not irritable and it keeps no record of being wronged. 
6 It does not rejoice about injustice but rejoices whenever the truth wins out.
7 Love never gives up never loses faith is always hopeful and endures through every circumstance.
8 Prophecy and speaking in unknown languages and special knowledge will become useless. But love will last forever!
Family of God listen: Everything we do for the Kingdom of God is instantly disqualified if we do not demonstrate LOVE in our lives towards those around us.
The STRENGTH of Awesome Church will be in it's LOVE WALK. The POWER of Awesome Church will be in it's LOVE WALK. The ANOINTING of Awesome Church will be in it's LOVE WALK.  
LOVE must be the motivating force that saturates our lives and permeates out of every fibre of our being. It begins with a personal and real relationship with God through Jesus Christ. Are you ready to go on a journey this year and have a God encounter and a LOVE REVOLUTION in Christ?
2022 LOVE REVOLUTION IN CHRIST!